Who loves flowers? I am raising both hands and I know you all are too. To me it doesn't feel like summer unless I do have some flowers around the house. Summer is the best time to receive them because most of them are in season. I know I love to receive flowers anytime. Its great when you give a gift like this, it really shows you care. I know I love to see the look on my family or friends faces when I give them something they really like. Its the best gift at all. Maybe I am a little corny but it still feels good! I recently had to opportunity to review Teleflora's site.
Its very well organized and they have a lot of inexpensive gift items to chose from! Thier arrangements are purely unique with different vases and containers in which they come in. They do have a lot of different species of flowers and they deliver anywhere in the country.
Here is one of my favorites: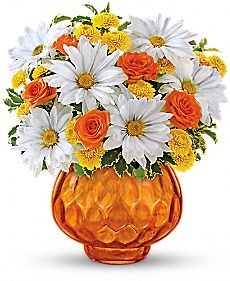 A favorite color is orange in this house and this is simply beautiful and captures the essence of summer!
Frugal Daddy and I actually ordered from Teleflora about a year ago for my mother in law and she lives in the Adirondack Mountains. If you are not familiar with NY, they are in the middle of nowhere, near Canada.
When we did order from them, they have excellent customer service. They were very helpful because we were nervous about the flowers reaching her house since she does live in the country. They definitely put us at ease!
They even have the Deal of the Day! I know my readers love a great deal!
Disclosure: This sponsored post was made possible by
Mom Spark Media.
I was compensated for my time investment and work on this campaign. Thoughts are my own.